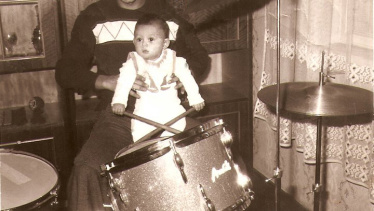 Zoltan, born in Miskolc in Hungary on July 4th 1976, started to play drums at age five. Early on, Zoltan practiced to records
by Stevie Wonder, George Benson,
The Police, and more.

His interest quickly turned to Billy Cobham, Steve Gadd,
Philly Joe Jones, Roy Haynes, Vinnie Colaiuta
and Peter Erskine, to name a few.

Starting to win awards at the age of nine in an international talent contest in Hungary 1986 this led to appearances together with the famous Hungarian Jazzpianist Szakcsi Lakatos Bela.

Zoltan's parents moved to Sweden in 1986 where he started his education.
In his early teens, Zoltan´s passion for Jazz,Fusion,Rock and Funk drumming. Zoltan is one of the most hired drummers in Sweden, very much in demand for his all around capability and versatility.

As a sideman, Zoltan has accompanied such greats as

Quincy Jones
Wah Wah Watson
Greg Howe
James Moody
Clark Terry
Randy Brecker
Billy Harper
Vincent Herring
Scott Hamilton
Ronnie Cuber
Kenny Washington
Gregorie Maret
Ken Peplowski
Bob Rockwell
Stuart Hamm
Anouk Teeuwe
Hans Ulrik
Ulf Wakenius
Jonas Hellborg
Kee Marcello
Putte Wickman
Jan Lundgren
Bobo Stensson
Sinne Eeg
Magnus Lindgren
Anders Bergcrantz
Svante Thuresson
Jesper Thilo
Karsten Dahl
Jacob Christoffersen
Lennart Ginman
Jesper Bodilsen
Peter Asplund
Nikolaj Bentzon
Tomas Franck
Ayi Solomon
Daila Faitelson
Lelo Nika
Dogge Doggelito
Pappa Dee
Blossom Tainton
Sylvia Vrethammar
Lill Lindfors
LaGaylia Frazier
Jacques Werup
Sharon Dyall
Lill - Babs
Lotta Engberg
Prominent
Beats and Big Band
Danish Radio Big Band and many others.